TV Aerial Installation, Repairs & Realignment

A new TV aerial installation is not something you need very often, so many people don't know what type of aerial they need, or how much it should cost to install.
It really helps to use an experienced and reputable company that will give you impartial advice, rather than recommending the most expensive aerial by default. New customers have often been given unnecessarily high quotes from competitors before they came to us.
MKH Aerials offer you honest, practical advice on exactly what you need and safely install it for you, often at a lower price than other digital aerial installation companies.
We can help you, with TV aerials anywhere in Birmingham, Solihull, Sutton Coldfield or surrounding areas such as Coleshill, Minworth, Shirley, Wishaw, Knowle and Hollywood.
New TV Aerial Installation
We specialise in choosing the right aerial for your location (anywhere in the West Midlands). It goes without saying that our expert installers will always fit your new aerial in the best position to give you a clear TV picture. Typically a wall or chimney mounting is best.
Most people can receive Freeview, but when things go wrong, MKH offer you a quick and affordable home digital TV aerial repair service. TV aerials are exposed to weathering and can suffer the ravages of wear and tear, or 'acts of god'.
High quality TV aerials, dishes, masts and brackets are made from metals and plastics. They are made to take a surprising amount of environmental stress or accidental damage. However, nothing is indestructible.
How Will I Know If My TV Aerial Is Damaged?
If something does significantly damage your old aerial or dish, you may experience a frustrating outage of service.
The symptoms vary greatly. You might have no TV picture at all, a 'mosaic' effects on your TV or other visual or audible disturbances.
Whatever the cause or symptom, you'll no doubt want to put it right as quickly and efficiently as possible.
Efficient Work Without Fuss
Call 0121 749 4029 to arrange a repair or use our easy contact form here.
We pride ourselves in leaving your home as clean and tidy as it was when we arrived.
You can relax in the knowledge that we will give you the best service we can. We work hard to restore your digital TV service as possible.
The Complete Home Digital TV Aerial Repair Service
Our experienced digital TV installation and repair technicians offer a comprehensive home TV aerial repair service. MKH can fix almost any TV viewing problem.
We can fix worn cables, accidentally cable breakages or mounting brackets that have been moved by high winds.
Sometimes you may simply require a realignment of your current digital TV aerial to return your service to peak condition. You can be sure that once we leave your home, the anchors or clamps holding your aerial or dish in place will be tight and working properly to maintain your digital TV service.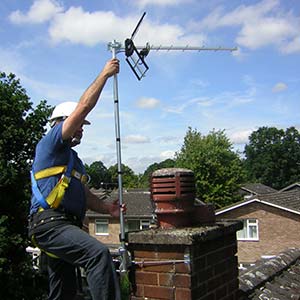 Repair Or Replace
Sometimes a TV aerial or Freeview box is impossible to repair as cheaply as it can be replaced. In these cases, we will suggest a replacement of equal or better quality.
If you prefer, you can source your own replacement equipment and let us install it for you. You can be sure that it will be fitted, installed and configured for you as quickly as possible, at a very reasonable price and without mess or fuss.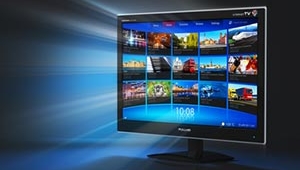 TV Aerial Realignment
In some circumstances, your TV Aerial may have become badly aligned. Weathering coupled with insufficiently strong mounts can result in your aerial moving into a bad aerial position.
Often, we can correct your problem by remounting and aligning your existing antenna for you. If your aerial is old, damaged or weathered, we might suggest that you advantage of our keen pricing and get a high-quality replacement in place before your old equipment completely fails.
Don't Put Up With Poor Quality TV Signals
You might assume that you will have to replace all of your equipment. A quick reorienting or repositioning of your TV aerial will get you watching again! If we have to remount your existing TV aerial or raise it in order to acquire the best signal.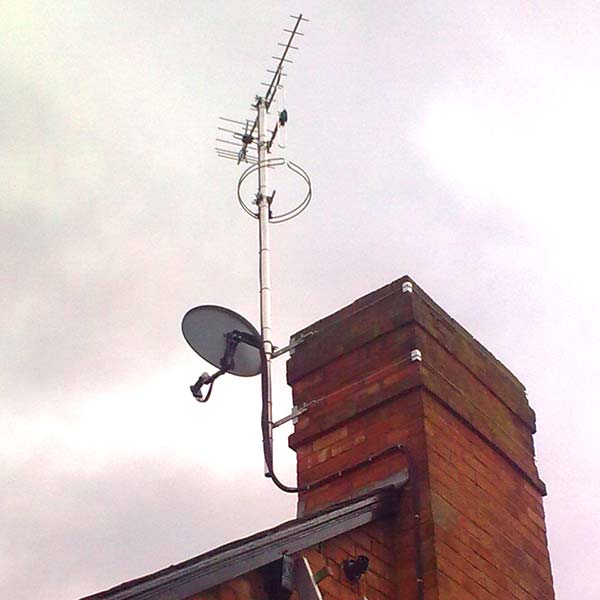 TV Aerial Installation
TV Aerial Repair / Replacement
TV Aerial Alignment
Additional Aerial Points
Chimney Installation of TV Aerials