TV Aerial Installation, Repairs & Realignment

A new TV aerial installation is not something you need very often, so many people don't know what type of aerial they need, or how much it should cost to install.
It really helps to use an experienced and reputable company that will give you impartial advice, rather than recommending the most expensive aerial by default. New customers have often been given unnecessarily high quotes from competitors before they came to us.
MKH Aerials offer you honest, practical advice on exactly what you need and safely install it for you, often at a lower price than other digital aerial installation companies.
We can help you, with TV aerials anywhere in Birmingham, Solihull, Sutton Coldfield or surrounding areas such as Coleshill, Minworth, Shirley, Wishaw, Knowle and Hollywood.
New TV Aerial Installation
We specialise in choosing the right aerial for your location (anywhere in the West Midlands). It goes without saying that our expert installers will always fit your new aerial in the best position to give you a clear TV picture. Typically a wall or chimney mounting is best.
Most people can receive Freeview, but when things go wrong, MKH offer you a quick and affordable home digital TV aerial repair service. TV aerials are exposed to weathering and can suffer the ravages of wear and tear, or 'acts of god'.
High quality TV aerials, dishes, masts and brackets are made from metals and plastics. They are made to take a surprising amount of environmental stress or accidental damage. However, nothing is indestructible.
How Will I Know If My TV Aerial Is Damaged?
If something does significantly damage your old aerial or dish, you may experience a frustrating outage of service.
The symptoms vary greatly. You might have no TV picture at all, a 'mosaic' effects on your TV or other visual or audible disturbances.
Whatever the cause or symptom, you'll no doubt want to put it right as quickly and efficiently as possible.
Efficient Work Without Fuss
Call 0121 749 4029 to arrange a repair or use our easy contact form here.
We pride ourselves in leaving your home as clean and tidy as it was when we arrived.
You can relax in the knowledge that we will give you the best service we can. We work hard to restore your digital TV service as possible.
The Complete Home Digital TV Aerial Repair Service
Our experienced digital TV installation and repair technicians offer a comprehensive home TV aerial repair service. MKH can fix almost any TV viewing problem.
We can fix worn cables, accidentally cable breakages or mounting brackets that have been moved by high winds.
Sometimes you may simply require a realignment of your current digital TV aerial to return your service to peak condition. You can be sure that once we leave your home, the anchors or clamps holding your aerial or dish in place will be tight and working properly to maintain your digital TV service.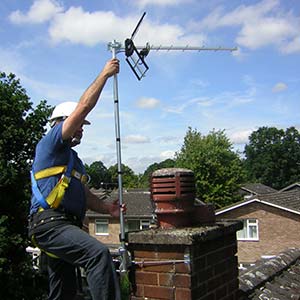 Repair Or Replace
Sometimes a TV aerial or Freeview box is impossible to repair as cheaply as it can be replaced. In these cases, we will suggest a replacement of equal or better quality.
If you prefer, you can source your own replacement equipment and let us install it for you. You can be sure that it will be fitted, installed and configured for you as quickly as possible, at a very reasonable price and without mess or fuss.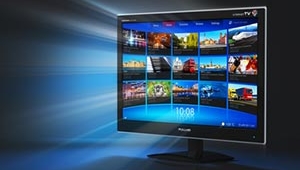 TV Aerial Realignment
In some circumstances, your TV Aerial may have become badly aligned. Weathering coupled with insufficiently strong mounts can result in your aerial moving into a bad aerial position.
Often, we can correct your problem by remounting and aligning your existing antenna for you. If your aerial is old, damaged or weathered, we might suggest that you advantage of our keen pricing and get a high-quality replacement in place before your old equipment completely fails.
Don't Put Up With Poor Quality TV Signals
You might assume that you will have to replace all of your equipment. A quick reorienting or repositioning of your TV aerial will get you watching again! If we have to remount your existing TV aerial or raise it in order to acquire the best signal.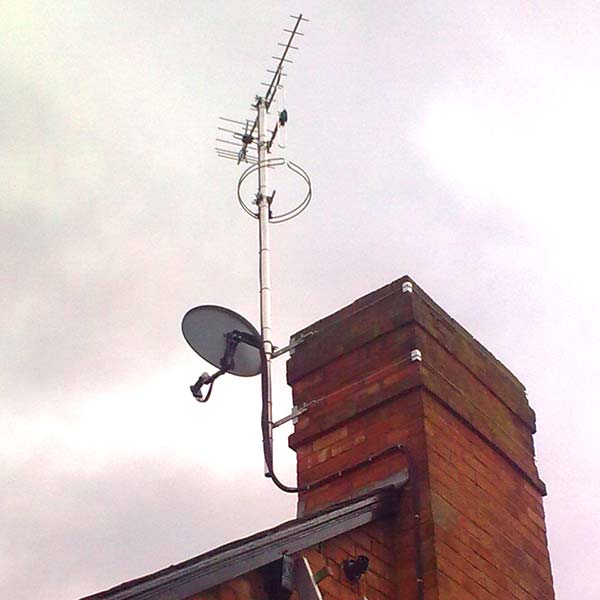 TV Aerial Installation
TV Aerial Repair / Replacement
TV Aerial Alignment
Additional Aerial Points
Chimney Installation of TV Aerials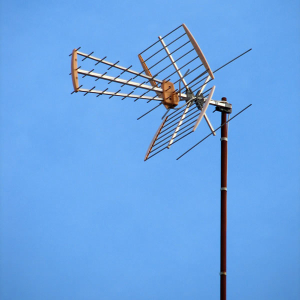 A new digital TV aerial and a digital TV box ('digibox') will mean that you can enjoy the benefits of digital TV broadcasts in all but the weakest signal areas. If you have problems with poor signal levels and are unlikely to benefit from even a boosted high gain digital TV aerial, then we may suggest that you change over to Freesat which receives your subscription free digital TV programmes from satellite broadcasters rather than terrestrial TV transmitters.
MKH Aerials Install And Repair Digital TV Equipment Such As:
Digital TV Aerials
Freeview Systems (Freeview Box & High Quality Digital Aerial)
Single Room and Multi-Room Digital TV Systems
If you find that your TV picture is fuzzy, or you can't receive as many channels as you used to, you may find that your TV aerial is broken and needs to be repaired or replaced.
It may just be that your aerial has become loose, or perhaps it has suffered damage or deterioration. Whatever is causing your poor TV signal, we can investigate it for you and provide the best solution. Sometimes it is possible to fix your existing equipment cheaper than installing replacement aerials. If an aerial repair is not possible, we'll install a high-quality aerial replacement for you.
If you have an old aerial that has become loose and is noisy when it is windy, we can secure it for you or even take it down if you have changed to satellite or cable TV and no longer require it.
A digital TV aerial's performance – is described by manufactures technical information in terms of Frequency Range, Gain, Beam Width H/V, Front to Back Ratio, impedance, Wind Load and Group.
Essentially, that means that TV aerials come in all shapes and sizes. One of the most important factors of an aerial is the wind factor. Some of the larger more expensive aerials tend to have a greater wind factor than more moderately priced aerials available on the market.  The risk this poses to the longevity of the aerial has to be balanced by any improvement in gain.
It is true that the bigger the aerial and the more elements, the greater signal gain. However strong signal gain TV aerials (high gain aerials – as they are known) are not always necessary. Since the onset of digital TV, most areas will have been supplied with main or relay transmitters that will supply enough output signal for most locations.
Through years of experience, it has become clear that the best aerials should be streamlined, with low wind resistance. If you needed a stronger signal because of distance from a transmitter, or distribution to more than one TV, then a masthead amplifier would be the best choice instead of a large aerial that catches more wind and degrades more quickly.
All aerials are made for internal or external usage though some of the larger type aerials are not easy to manoeuvre in a loft for the correct positioning to maximise signal detection. Therefore there is no such thing as a loft aerial.
Whilst moderate to good reception can be gained from a loft, the signal is stronger when installed outside on a chimney or gable end.
Both BT Vision and Freeview use the digital signal pathway for terrestrial TV reception. Therefore once a digital aerial is installed and you have a good digital signal you have the availability of both the above suppliers.
For Radio we also offer the installation of Dab and FM Aerials these can also be integrated into you TV distribution system around the home.
Over the years, we've been asked a lot of questions about digital TV and aerials. We found the switchover to digital television confused people particularly.
If you have a niggling question, perhaps it has already been answered on our Frequently Asked Questions (F.A.Q.) page.