What is the ideal TV mounting location?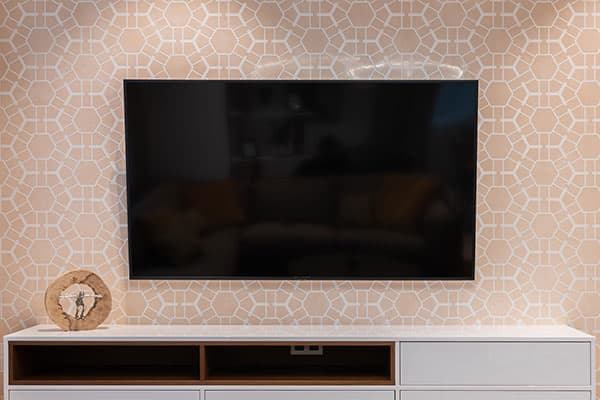 Some people prefer to keep their televisions on a stand, but others wish to have them placed upon the wall. The latter is something we can assist with.
Installing Wall Mounted TV in Birmingham
Experienced in positioning TVs on walls, we use only the most dependable and safest approaches whilst we are on the job, preventing as much damage to your property as possible.
Having already carried out some of the finest work on TV wall mounting Birmingham has ever seen, our team is the one to rely on if you're set on having your television in a higher position.
How to Wall Mount a TV
Contemporary flat panel televisions are the perfect candidates for wall mounting, keeping the room free of clutter and providing the optimum viewing experience at the same time.
Like any home alteration project however, there is an assortment of critical safety aspects to take into account prior to beginning the wall mount. As long as the proper utensils and preparation procedures are used, there shouldn't be too much bother.
On the other hand, should you mount in the wrong location, your TV may end up suffering considerable harm.
Where to Position Your Wall Mounted TV
In terms of positioning, various experts suggest that your television's middle be placed at the height your eyes are at while you're sat down. However, many individuals favour somewhere a bit higher up, closer to what they consider an exemplary standing spot.
Wooden Stud Walls and Mounted TVs
When mounting on wooden studs, it's beneficial to utilise a stud detector in order to find the centre of those studs that will be used. Afterwards, a mark should be stationed at the selected height. To make certain that the television shall be straight, measurements need to be made with a spirit level.
Professional Installation Service
At MKH Aerials, in addition to supplying customers with a complete installation service, we also give them professional advice when necessary.
This variety of work is very tricky and requires extensive planning for it to succeed, and due to the potential for damage, we recommend that you call on us instead of attempting it yourself.
TV Wall Mounting Birmingham
If you need our assistance, please get in touch with the team. We are confident we provide the best results and deliver a great viewing experience regardless of the size of the screen. We are an established provider of TV wall mounting Birmingham residents can always rely on.