Network Cable Installation Birmingham
If you struggle with the Wi-Fi signal strength in a property and need a more reliable solution opting for a hardwired connection could be the perfect option.
The cabling can be installed in all kinds of locations, ensuring there is a secure line to connect to whenever it is needed. If you're thinking of installing a network cable, read on.
Ethernet Network Cabling Installation
At MHK Aerials we have built a strong reputation as one of the leading providers of network cable installation in Birmingham. We can help you with getting everything set up.
Our highly experienced team can design cabling installations for all kinds of settings, from home offices to outbuildings, Wi-Fi dead spots, and loft extensions.
In each location we can run the cabling effectively, ensuring the layout is correct and the risk of wear and tear is minimised. You can decide exactly where the cable needs to be run to and we will ensure it is done.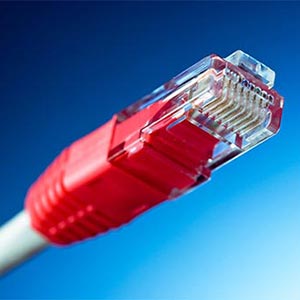 The Benefits Of Home Network Installation in Birmingham
High download speeds
More simultaneous users
Lower 'ping'
No deadspots / blackspots
Consistent high speeds
Reliable connection without delays
No interference
No tricky settings
Plug and Play
No need for wi-fi repeaters
Easily extended
Works in parrallel with existing wi-fi
How Our Home Network Cabling Service Works
We will begin by getting to know your specific needs. This helps us to offer recommendations for the installation and the type of cable that should be used. There are a number of choices, ensuring you can select network cables to suit your requirements and budget.
Once cables have been selected and we understand your specifications we can complete the job and get everything up and running. We will do this as efficiently as possible, working to minimise disruptions whilst also maintaining the quality.
In addition our team will work to keep everything clean as we work; clearing up as we go so you don't have to.
Ethernet Cable Installation Services
Whether you need a simple installation for a single room or a large multi-point environment setting up we can provide the perfect services for you. Our flexibility and the great results we offer are what have helped retain our position as the most reputable provider of network cable installation Birmingham has.
If you have any questions for us or would like to discuss your project please get in touch. MKH Aerials is always happy to assist clients.
Broadband As It Is Meant To Be
The biggest benefit of having network cable installed in a property is you can take advantage of high download speeds regardless of the obstacles that limit Wi-Fi signal strength. This is great for parts of a property that are far removed from the router or areas where you want to maintain services effectively such as in home offices.
When you call on us to install network cabling we will work closely with you to provide the best results and ensure that your broadband functions as it is meant to.
Event the best routers from Virgin Media, BT and so on need help occasionally.
Network Cable Installation Pricing
Our home network cabling started from just £65 but larger jobs will require a free visit to provide a price for your work.
We do not charge a call out fee, so get in touch today and see what we can do for you.
If you have any questions for us or would like to discuss your project please get in touch. MKH Aerials is always happy to assist clients.
Home Network Cabling FAQs