Freesat ('Free To Air' Satellite) Across West Midlands
Freesat Gives You More Choice & Higher Quality
With no subscription and 140 new TV and Radio channels Freesat brings you something for everyone. Only one payment to make, then your Freesat tv installation is free! Call us now on 0121 749 4029
Freesat is available across the UK and offers HD services without subscription. Freesat digital TV brings you more than 140 new TV and Radio channels in an affordable and subscription free package. New TV channels and radio stations are added frequently.
Freesat is a great way to receive a wide choice of cheap digital TV, HD programmes and digital radio with sound and visual quality that you will really appreciate.
With a Freesat+ box you'll even be able to record your programs, pause them or rewind live TV! All this is available for a one-off payment and without a monthly fee.
After installation, Freesat will remain subscription free forever.
Single TV or Multi-Room Installations
We are pleased to provide Freesat digital TV services for a single room or multi-room applications.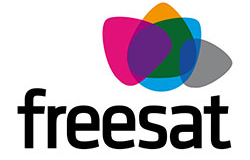 Each TV in the house can be a Freesat TV with its own box. Up to 8 televisions can be served by each satellite dish for a clear, reliable service.
MKH Aerials are digital TV installers with a wealth of experience installing Freesat satellite dishes and Freesat receivers.
Freesat systems are quickly installed by our qualified, professional installers. MKH Aerials is not only a professional installer of high quality and reliable Freesat equipment, but we also lead the way in terms of professional service, courtesy and old fashioned honest work.
MKH Aerials will give you impartial and clear advice before fitting your Freesat system with a minimum of mess or stress.